Printed Materials in K-12 Education
National Poll Shows Overwhelming Parent Preference for Physical Books Over Digital
The year 2020 presented unprecedented challenges - logistical and emotional alike -- for students, teachers and parents. Learning approaches, classroom lessons and homeschooling were all upended due to COVID-19. While much about returning to in-class learning was talked about, one thing is clear; when it comes to books, textbooks, and workbooks, parents are united: the physical version matters.
Recently, BMI commissioned renowned pollster Frank Luntz to gain insight into how parents viewed the efficacy of various learning materials.
In a survey of 1,000 parents of K-12 school children across America, the results could not be more conclusive. Parents are deeply focused on what their children learn, AND as importantly, how they learn it: by a 69% to 31% margin, parents chose physical over online materials when given the option. Over 80% of parents believe physical materials would have made their jobs easier helping their child learn from home, and 71% of parents are more likely to vote for school board member who supports students learning via physical materials, versus 29% who prefer a board member who wants online materials.
[Click on the infographic below for a full page PDF]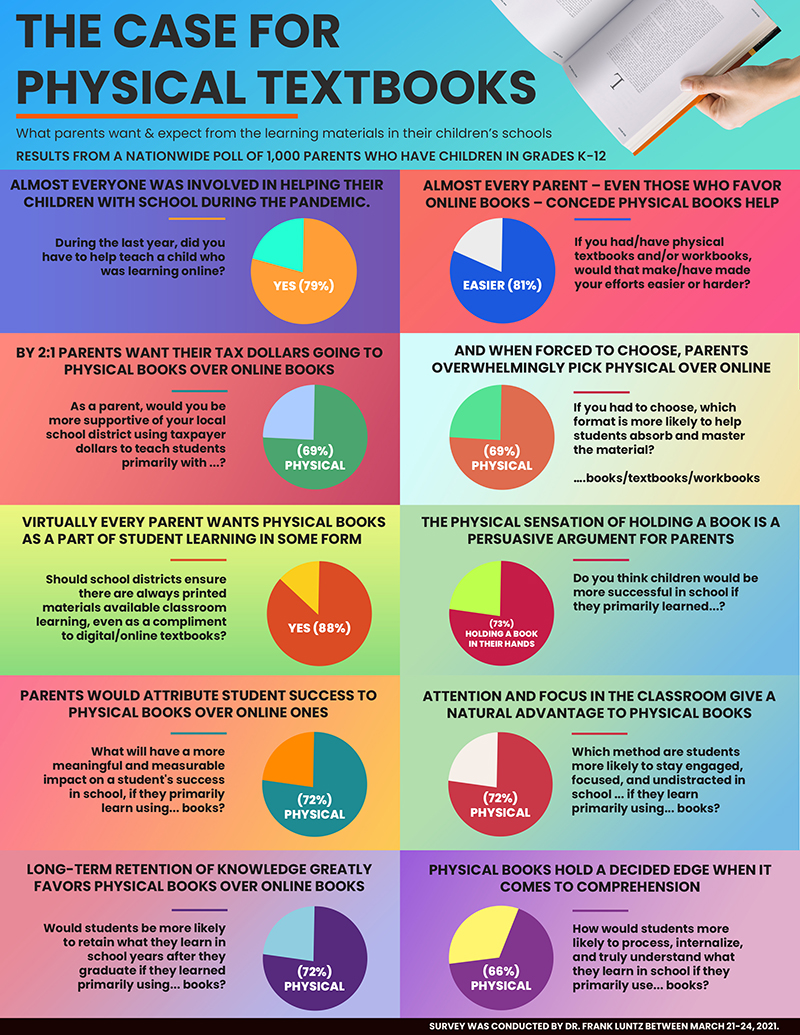 In addition to national polling, BMI asked Dr. Naomi Baron, Professor Emerita of Linguistics at American University to pen a whitepaper that summarizes the scientific research around reading print versus digital and how learning fits into the which medium is chosen.
As Dr. Baron points out, "An abundance of research now substantiates that yes, medium matters for learning.
While both print and digital have roles to play, the evidence demonstrates the continuing importance of print for sustained, mindful reading, which is critical to the educational process."
---
Thank you to our generous sponsors who made this research possible