BMI Announces 2019 Award Winners
Date posted
October 30, 2019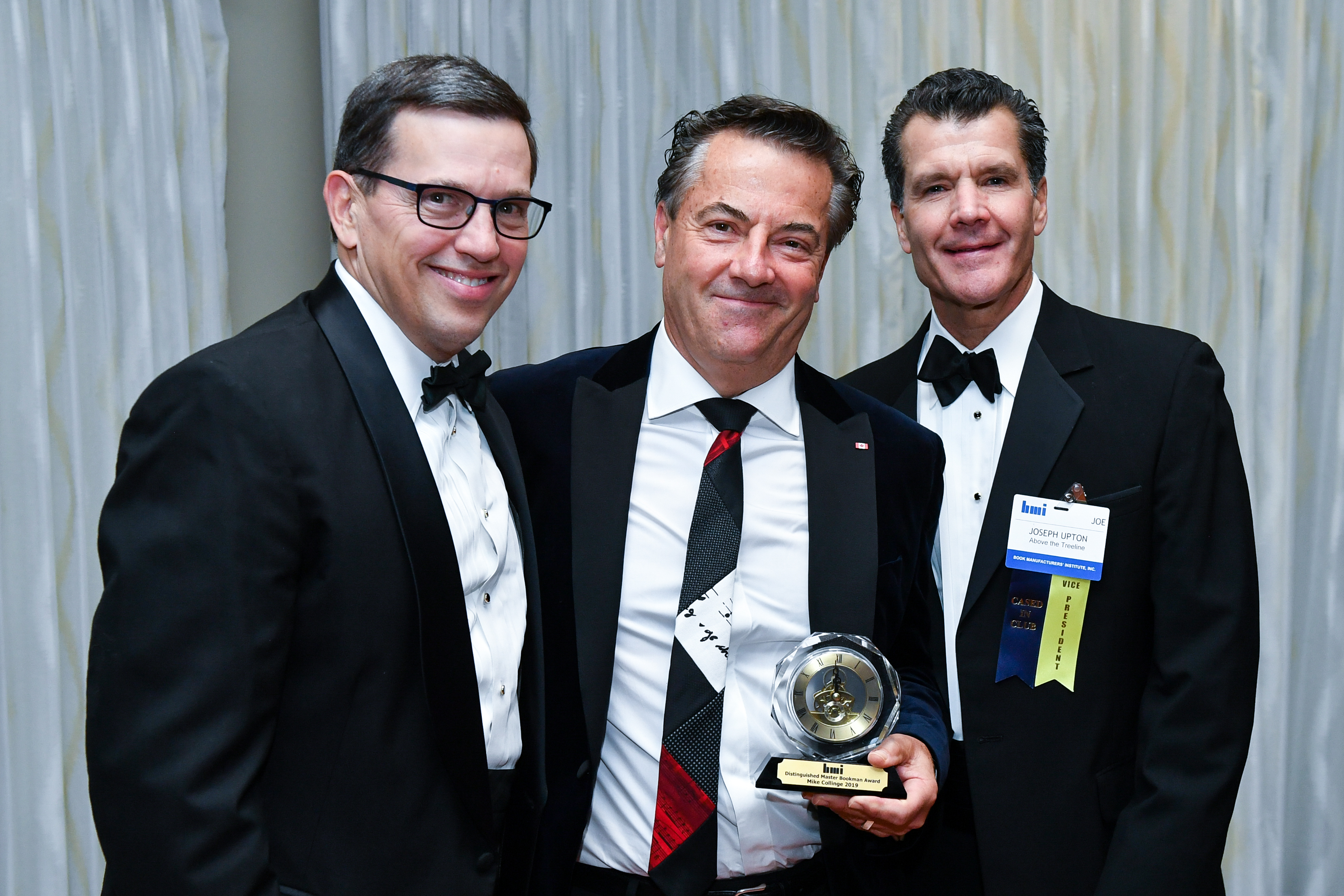 [ORMOND BEACH, FL—October 30, 2019] The Book Manufacturers' Institute (BMI) has announced recipients of the Distinguished Master Bookman Award and the Signature Award, as well as three new members to the Cased-in Club.
The honors, presented Monday evening at the Awards Banquet at the Fall Annual Conference in Sanibel, Florida, recognize BMI members who not only contribute to the success of their organization, but also to the continued success of the book manufacturing industry.
Matt Baehr, Executive Director of BMI, said, "This industry is blessed with many people who are amazing at what they do, while also showing a genuine love for book manufacturing and the printed book itself. These individuals are a perfect example of that."
---
Distinguished Master Bookman Award
The Distinguished Master Bookman Award, bestowed upon a BMI member who has made an extraordinary contribution to the book manufacturing industry throughout a long career, was be given to Mike Collinge, of Canada's largest book manufacturer, Marquis Book Printing. Mike is an active leader and advocate for the publishing industry and has served on the BMI Board for 14 years, and as our President from 2011 to 2013. He also has held leadership roles with the Canadian Book and Periodical Council, the Canadian Book Manufacturer's Association CEO Global, and the Canadian Printing Industry Scholarship Trust Fund.
---
Signature Award
The Signature Award, given to a BMI member who has made a valued contribution to the welfare of the industry and/or the Institute through the display of superior leadership qualities on an issue of particular concern to the industry or, for exhibiting such qualities over an extended period of time, was given to Jim Kaeli, who is recently retired from Muller Martini where he held several senior management roles, most recently as Manager for Hard and Softcover Book Technology Solutions for North America..
Jim joined R. R. Donnelley in 1981 as a Project Engineer and worked in several manufacturing divisions with management responsibility for bindery operations, engineering & maintenance, and information systems before joining Müller Martini in 2001. While at Muller Martini, he maintained an active blog sharing his perspectives on our industry. He has been active in the Book Industry Guild of NY--serving several times as a judge for the Annual New York Book Show—and with the BMI where he served as a Director and as a member of the Program and Membership Committees. Jim joined the BMI in 2001 and has been a constant presence at our meetings ever since. He became a member of the Cased-in Club in 2012.
---
The Cased-In Club Award
Membership to the Cased-in Club is awarded each year to BMI members who have served in the industry for more than 20 years and have worked with the BMI with distinction. The 2019 recipients of this privilege are:
Joe Dunham of LBS
Alan McIntire of R&R Bindery
Dwight Vicks of Vicks Incorporated
---
Prior to the presentation of the awards, Joe Upton, President of BMI and Past Chairperson of the Awards Committee, said, "This event is the perfect venue to celebrate both the achievements of these individuals but also the physical book. All of our honorees have dedicated themselves to bettering our industry while producing one of life's greatest joys, the book."
---