BMI Announces Inaugural Rising Star Award Winner
[CHARLOTTE, NC—April 29, 2019] The Book Manufacturers' Institute (BMI), has announced that Clark Matthews of Independent Publishers Group is the recipient of the first-ever Rising Star Award.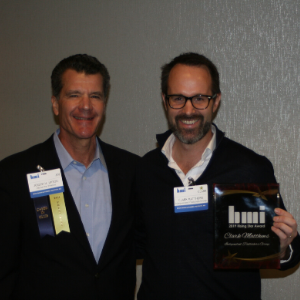 The honor was established to recognize book industry professionals who may not be long-standing industry veterans, but are making a positive impact on their companies, in their communities, and in the industry.
Clark Matthews was selected by the BMI Awards Committee from a pool of nominees which included:
Andrew Conway, LSC Communications
Philip Garner, R&R Bindery Service, Inc.
Mark LaCaria, Copywell
Matthew Leach, LSC Communications
Kirby Mathias, Bookmasters

The inaugural Rising Star Award was presented at the 2019 BMI Management Conference on April 29, 2019, in Charlotte, North Carolina.
In support of Clark Matthews' nomination, an IPG colleague said, "He has helped small and independent publishers for years, creating software and systems that help ease the distribution process for our clients, allowing them to focus on publishing quality content…. He ensures that his team, the ones that will help sustain and carry on the process, is always included and well informed of the ever-changing climate in printing."
Joe Upton of Above the Treeline and BMI Awards Committee Chair said, "Clark proved to be a quick study of the book manufacturing process and within a few months made IPG a viable source for quality book printing."
Nominees were evaluated for their sustained excellent job performance; contributions to their company, community, and/or industry; continued training/education/learning within the industry; and demonstration of exemplary customer service, community service, and/or industry service.
---