A Guide to the Member Compass and Directory
The Membership Directory and the Member Compass are two central components of our new website. These features are a part of our association management software, Novi AMS. Read below for more information on how to use these, as well as some answers to commonly asked website questions.
As a small staff association, we feel we now have an easier-to-use, more robust system at our fingertips. Easily search for services within the Member Directory, read the latest News articles, and register for events.

- Matt Baehr, BMI Executive Director
Membership Directory
If you're trying to locate another BMI member, or searching for a specific service, such as Binding Types or Finishing Capabilities, look no further than the Member Directory. Use the Search function by typing a few letters of the company's name, and it will do the rest. If you're looking for a specific category or service, use the Filter function in the dropdown menu to the right.

Filter by:
Member Type

Book Printing Capabilities

Binding Types

Cover Finishing

Finishing Capabilities

Industry Specifications

Environmental Certification

Other Certifications And Memberships
The Member Compass
The Member Compass allows you to view and update your individual or company contact information, view event registrations, and pay for open invoices. When you log into the website, you'll be redirected to your Member Compass automatically. The Member Compass provides account information for you and your company. From here you can check your membership status and access additional membership information.
Access Levels:   Any logged in user can see their Dashboard. See your membership status and update personal profile information, as well as view event registrations (current and past), plus any orders and transactional history. Along with your account information, you may see company information depending on your access level.
You can update Company information if  you are the Primary  Contact  or have been granted Management Access. You can add or remove staff, and update contact information and custom fields. You will not be able to edit the company's name. Contact us for assistance if your Company Name needs to be updated.
Billing Contacts

 have the ability to view transactions for the company and related contacts, and pay open invoices, but they do not have access to edit their company's information.

 
Dashboard:  Click this at any time to go back to the main Member Compass screen. 
The dashboard page shows the current number of upcoming events you're registered for and how many outstanding invoices you have. Note: if you are not registered for any upcoming events or do not have outstanding invoices, the corresponding box does not display.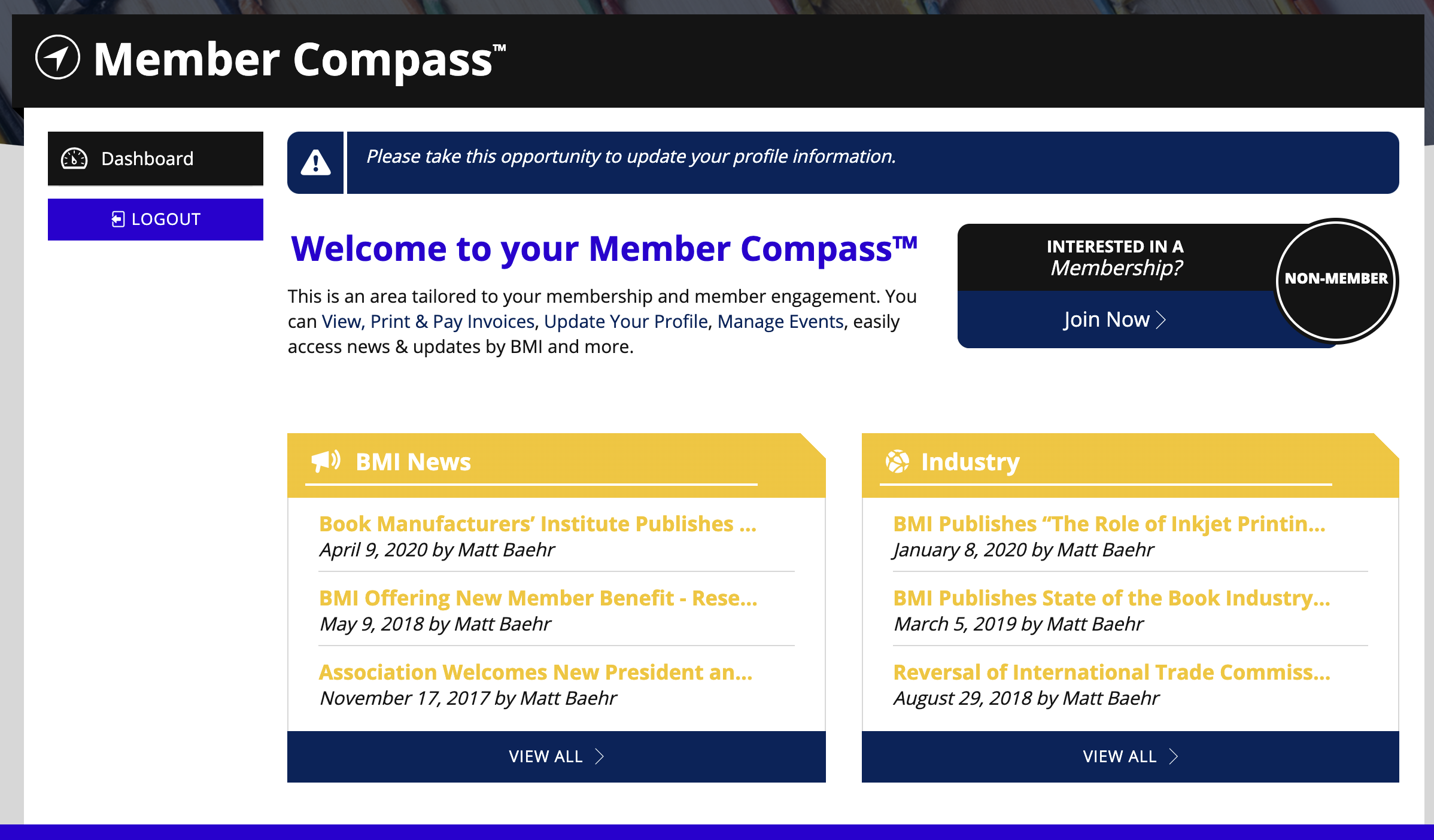 Pay Balance and View Account History: These sections allow you to view & print invoices and receipts, view past transactions, and pay open invoices.
My Events: This tab displays events that you are registered to attend. The link on the right of each event enables you to add it to your calendar.
My Orders: Product orders from purchases (if any) are shown in this area.
Profile: Upload your headshot, links to social media profiles, and any other information you'd like to share with other Book Manufacturers' Institute members here. When you update your profile information within the Member Compass, that will update what appears on your individual directory listing.
Login & Password: Update your login credentials in this section.
Payment Methods: Update your saved payment methods.
Company: If you see the word Company, your account has access to update the Company profile. The Primary contact at your company, and anyone on staff with Management Access, can update the information. The company logo, contact information, website, address, description, etc. can be updated here. Changes made here will be reflected on the company's Member Directory listing as well.
Staff: If you see the word Staff, your account has access to update the staff at the Company.
Note, if you need to update the Company name, contact us for assistance.
Frequently Asked Member Questions:
To get full access to your member benefits, be sure to log in to your account. Not sure if you already have an account or need to create one? Read this article for further instructions.
How do I join the Book Manufacturers' Institute? Learn more about membership with BMI here.
How can I tell if I'm registered for an event? Can't remember if you already registered for an upcoming event? No problem. The My Events tab in the Member Compass lists your registered events.
How do I view my open invoices? Your Member Compass is the place to view open invoices and your payment history. If you're a Primary Contact, Billing Contact, or have management access, you'll also be able to view transactions billed to the company and other related contacts.
Where can I read the latest updates from BMI? Read the latest New & Happenings on our News page.
---
If you need additional assistance, we're here to help!
Contact Us